So, probably the whole world knows about
TOMS
shoes. If not, then you are certainly missing out on an amazing movement and cause (and now fashion statement)! I found out about TOMS from the American Express commercial he was in way back about 3 years ago! I thought it was such a cool idea. About a year and a half ago I bought my first 2 pairs of TOMS...they were SO comfortable. So after completely bruising my two big toe nails at a wedding (and living through crazy pain for 3 months) because my shoes were too small I decided to seek and find the perfect wedding shoe. After buying probably 3 pairs of other shoes...I came across my TOMS in my closet and decided to give them a try. Boy, did my feet thank me! They are all I wear now. It doesn't matter if its raining, freezing cold or swealtering hot...I will forever wear my TOMS. So here is my small collection. It will grow. I promise! :)
Yes, that is a size 10 you are reading...I have skis for feet! :)
Even Beanie likes them!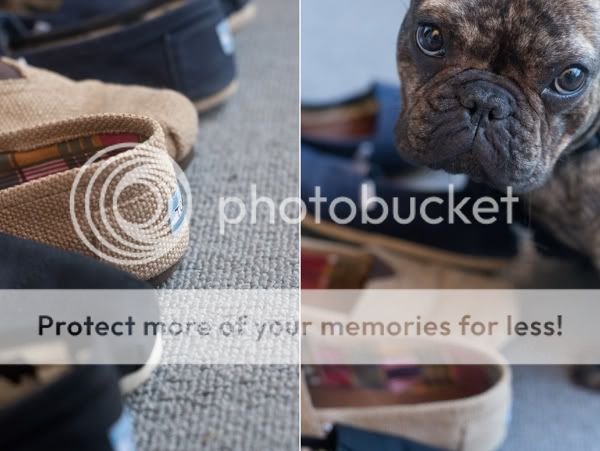 My classic Burlaps make me feel like an elf when I wear them...teehee! :)
So stinking comfortable!!! Now I just need a picture of me wearing them at a wedding! ;) If you haven't gotten a pair of TOMS I completely suggest you should! I obviously love them so much I blogged about them! haha!